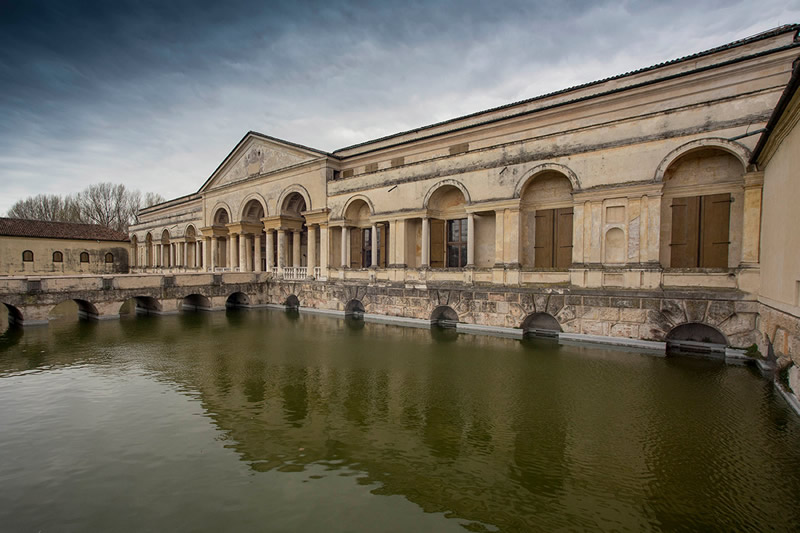 Photo: Gian Maria Pontiroli
Built between 1525 and 1535 by Giulio Romano, Palazzo Te was commissioned by Federico II Gonzaga. The famous villa, designed for feasts, receptions and the otium, or leisure time, of the duke of Mantua, stood on an island directly connected to the city centre, and known since medieval times as  the Tejeto, or Te. The most likely theories are that the name stems from the term tilietum (a place of linden trees /località di tigli) or from the Celtic tezza combined with the Latin atteggia, both of which mean hut. The rooms of the Palazzo – Room of the Horses, Love and Psyche, Giants – the loggias and the apartment of the Secret Garden, along with the courtyard of Honour and the garden of the Exedra represent the finest expression of creativity and invention by the great architect and painter Giulio Romano.
The Palazzo is home to the civic museum (Museo Civico). The upper floor houses the permanent collections: the Mondadori bequest with paintings by Spadini and Zandomeneghi; the permanent Gonzaga section, with medals, coins, minting dies /coni, and weights and measures from the 14th to the 18th centuries; the Giuseppe Acerbi Egyptian collection, with its 500 pieces, and the collection of Ugo Sissa, a Mantuan architect and artist who collected numerous examples of Mesopotamian art in Baghdad.
Rooms of the Palazzo can be hired for conventions, launches and corporate hospitality.