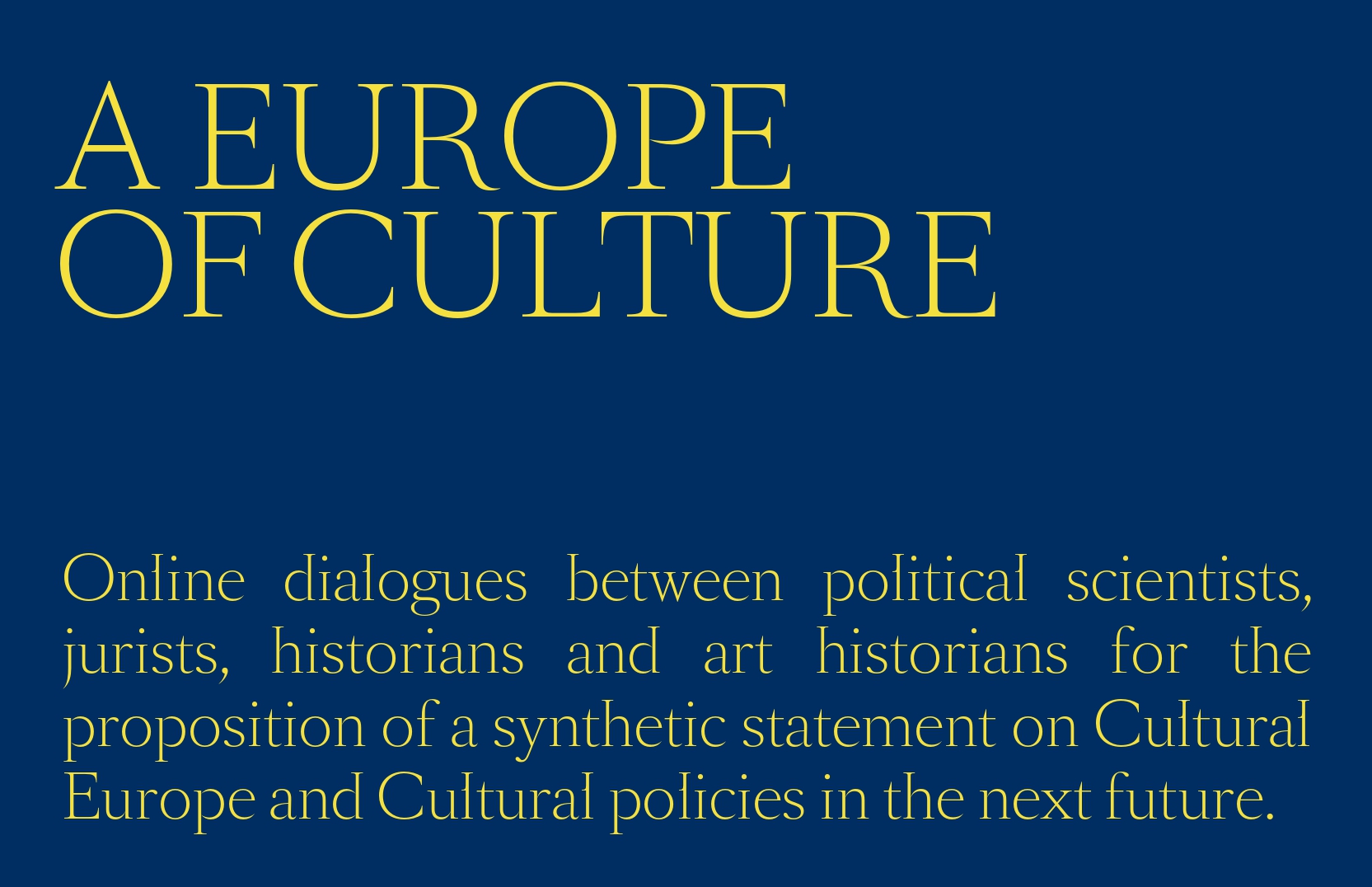 A SCIENTIFIC, HISTORICAL AND PHILOSOPHICAL REFLECTION ON THE MULTIPLE MEANINGS OF "CULTURAL" EUROPE
For the 2023 edition of "Scuola di Palazzo Te", the director Stefano Baia Curioni moderates a series of encounters on the theme of Europe and Freedom, conferences dedicated to a reflection on the sense of culture common to Europeans, on the foundations of a cultural Europe and the relationship between cultural policies and the consolidation of the European Union. Political and social scientists and art historians are involved in live and online conferences  available to a national audience.
These dialogues will be presented as visual documents and podcasts and will offer the basis for the proposition of a synthetic statement on Cultural Europe and Cultural policies in the next future. 
SCHEDULE
June 6th, 5.30 pm
Mr. Europe. Rubens and the roots of European modernity**
MAURIZIO FERRARA, University of Milan
discussant RAFFAELLA MORSELLI, University of Teramo
Add to Google Calendar | Add to Microsoft & Apple Calendar
Twenty-five years ago, The New Yorker magazine dedicated an article to Rubens, calling him Mr. Europe. His painting of the aftermath of war depicted the condition of Europe at the height of the religious wars. It was the defeat of that universalistic humanism that had inspired the action of the political Rubens, mediator of peace. A system of values that had promoted the commercial and cultural flourishing of that "city belt" between Italy and Flanders that had been the context of Rubens' own activity. Yet it was precisely the horrors of the Thirty Years' War that generated the seeds of a new project of civil coexistence based on tolerance and the free expression of ideas. Depicted as a woman with torn clothes and arms raised to the sky, the Europe in Rubens' painting would find in that project its soul and vocation. And three centuries later, the six countries crossed by the city belt will give that project a new institutional expression, the European Union.
June 13th, 5.30 pm
About Time: the foundational narratives of European Community
CATHERINE DE VRIES, Bocconi University
discussant FRANCESCA CAPPELLETTI, Director National Museum Galleria Borghese
Add to Google Calendar | Add to Microsoft & Apple Calendar
In order for the European project to address current challenges, such as climate change, economic instability, political polarization or the rule of law crisis, I argue that Europeans need to confront their past. I will distinguish between different foundational narratives about the EU and outline how they continue to shape EU politics of the present day. History is not only the recollection of events; it represents the connections that the public and elites wish to make. So, in order to develop policy solutions to cross-border issues, European contemporaries need to critically revisit past connections and to uncover blind spots. If Europeans revisit the EU's foundational narratives, they might also figure out what should change in the EU today.
June 20th, 5.30 pm
Europe: A state of mind beyond cultures and identities
RIVA KASTORYANO, Science Politique e Harvard
discussant STEFANO BAIA CURIONI, Director Fondazione Palazzo Te
Add to Google Calendar | Add to Microsoft & Apple Calendar
What is Europe? A geographical space or a civilization? An economical project or a political one? A new historical reality or a philosophical thought? All these questions, and many more go along with our understanding of Europe and its transformative power on identities – diverse and multiple – that have been consolidated within nation-states.
States and societies involved in the formation of a European state of mind try to express their "will to live together" (Renan on the definition of citizenship). Historians try to find a common past justified by a shared history of civilization, a common path for political modernization and economic development. The goal is to transmit a European identity to young generations considering the role of history in the definition of the future of the nations and a new identity with boundaries to be defined. As Edgar Morin a French sociologist and philosopher pointed out: "Europe – called our community of faith – does not emerge from the past which contradicts it. It emerges hardly from the present because it is imposed by the future"
The past refers to identities that have been constructed with the process of nation building. Hence debates on the effect of the Union on national, regional, linguistic religious identities and of course on a European identity that will cover them all. The question I would like to explore is how to articulate multiple and complex membership of individuals, groups, of peoples in order to form a common identification that would be European, rather how to
create a new identification with Europe as a new space for mobilization and claim. Europe is plural de facto where all national cultures impose themselves. A European state of mind requires new model of society, naturally plural, based on principles redefined with regard to new articulations in order to create a common culture beyond nations and states.
June 27th, 2023 ore 17.30
"In difference we trust". The intercultural foundations of European law**
DAMIANO CANALE, Bocconi University
discussant CRISTINA LOGLIO, Europa Nostra
Add to Google Calendar | Add to Microsoft & Apple Calendar
One of the defining features of European culture is its "polemical" nature. From the dawn of Greek philosophy to the present day, the distinctive trait of the European perspective on the world is represented by the dialectical confrontation between different instances. Where their desire for universality depends on their mutual recognition. This applies not only in the fields of philosophy, art and religion, but also in politics and law. Indeed, the profoundly dialectical and plural dimension of European culture underpins the project of a common European space that arose after the Second World War. At the heart of this endeavor, even today remains the inherent challenge of harmonizing different political and legal instances in constant dialectical confrontation with each other. The aim of my contribution is to show how the "polemical" character of European culture has found shape in the law of the European Union, and under which conditions the latter can remain faithful to its mission in the face of the challenges of the present.
July 4th, 5.30 pm
Law and Culture in Europe**
LORENZO CASINI, IMT Lucca,
discussant STEPHAN SIMON, Director Rathgen – Forschungslabor, Staatliche Museen zu Berlin – PreuiBcher Kulturbesitz
Add to Google Calendar | Add to Microsoft & Apple Calendar
Cultural Heritage can reflect different meanings under the legal perspective. For each of them, Europe represents an important factor of transformation. How did Europe influence the evolution of cultural heritage and its regulation? What are the future challenges for a genuine European culture?
** conferences in Italian
DATES
06/13/20/27 June 2023
04 July 2023
CURATED BY
Stefano Baia Curioni
Cristina Loglio
PRODUCTION
Fondazione Palazzo Te
IN COLLABORATION WITH
Bocconi Lab in European Studies
HOW TO PARTECIPATE
Free subscription
SPEAKERS 
Stefano Baia Curioni, Fondazione Palazzo Te
Damiano Canale, Bocconi University
Lorenzo Casini, IMT Lucca
Francesca Cappelletti, National Museum Galleria Borghese
Catherine De Vries, Bocconi University
Maurizio Ferrera, University of Milan
Riva Kastoryano, Science Politique e Harvard
Raffaella Morselli, University of Teramo
Cristina Loglio, Europa Nostra
Stephan Simon, Rathgen – Forschungslabor, Staatliche Museen zu Berlin – PreuiBcher Kulturbesitz