Small Cross Vault Chamber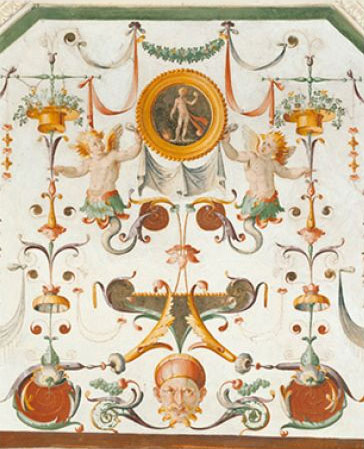 This small room separates the monumental wing of the palazzo from the private, less richly decorated rooms.The cross vault, from which the room takes its name, was decorated between 1533 and 1534. The moulded stuccoes were executed by Biagio de Conti and Benedetto di Bertoldo, while the hand-finished acanthus leaves in the corbels are by Andrea de Conti.
The grotesques in the vault were painted by Gerolamo da Pontremoli in iridescent shades of pink, red, golden yellow and silvery green; the composition shows herms of Diana Ephesina framed by sphinxes on two opposite segments of the vault, and on the others, pairs of putti holding a medallion.
The lower part of the room was decorated with faux marble and stucco relief by Gerolamo Staffieri of Ticino in 1813.
Small chamber of Grotesques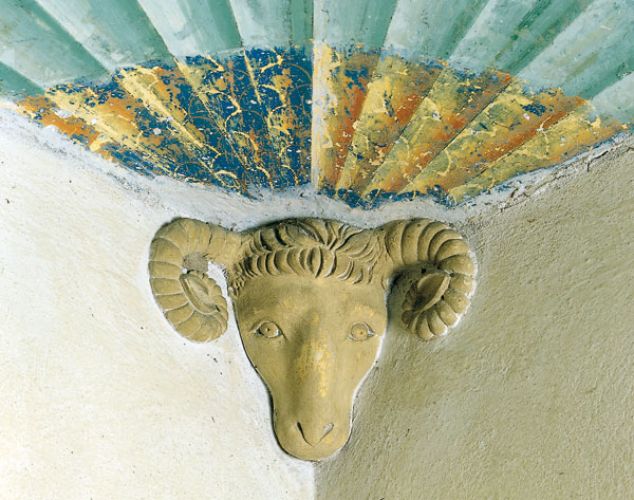 This small square room facing south has an octagonal pavilion vault.
The stucco frames are by Andrea di Conti, while Luca da Faenza is responsible for the grotesques in the vault that lend their name to the room. In each of the segments the grotesques are grouped round a panel of playful bas-relief putti on a black or red background, like small cameos supported laterally by larger putti.
All around is a repertoire of masks, flowers, insects, birds, imaginary animals and small mythological figures painted in white and golden yellow. Beneath the window arch is a roundel by Gerolamo da Pontremoli representing Amor with his bow and arrow and set within a painted band of grotesques.
The decoration can be dated 1533.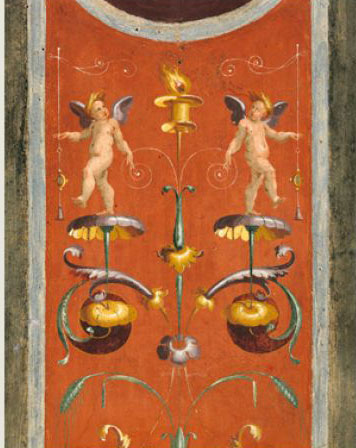 The tiny chamber of Venus led via a staircase to the stufetta, Federico II's private bathroom, on the mezzanine floor. The small size and intimacy of the room is underlined by the half-light coming from the single small window.
The name derives from the fresco in the roundel in the centre of the vault: the Toilet of Venus. The goddess is holding a mirror and is in the company of Amor. The iconography is completed by putti bringing the goddess items for her toilet: a feather and brush, perfume bottles, a small towel, mirror, combs and a turban.
The figures are part of a wider decorative scheme including grotesques with rectangles on a vivid red and ochre background. Around the perimeter the white background decoration displays swords, shields and quivers that allude to the warlike qualities of the prince.
The disappearance of the stucco decoration in the vault and the lack of furniture prevent one from fully appreciating the charm of the original room, which can only be imagined nowadays.
The painted decoration is by Gerolamo da Pontremoli, who was paid for his work here in 1534.