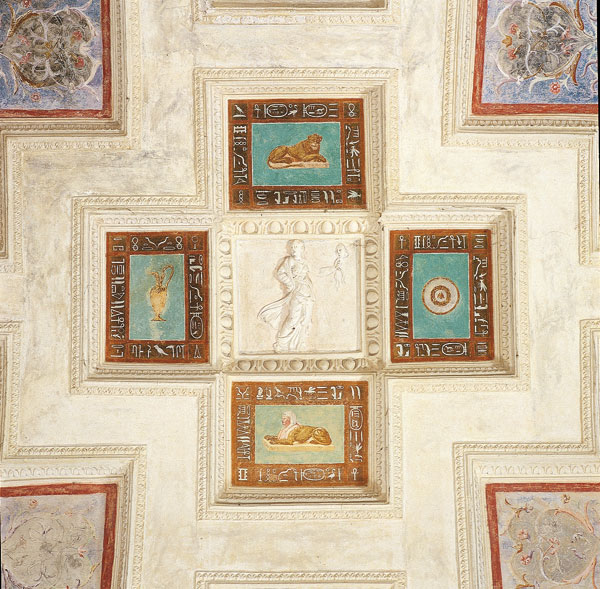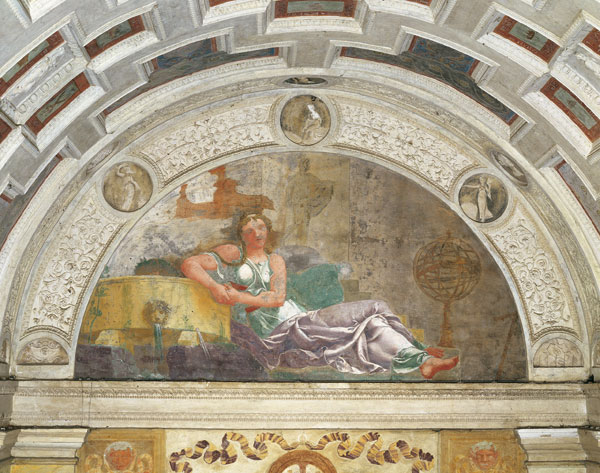 The Loggia of the Muses was the entrance for guests who, from the "Cortile d'Onore" (Courtyard of Honor) came into the state rooms. Here, amongst frescoes and reliefs referring to the art and culture of the ancient times, Federico II used to welcome his visitors.
The vault is dedicated to the Muses, protector deities of arts and science. The goddesses are modeled with plaster in the lacunars of the vault, which are surrounded by classic and modern emblems and by accurate reproductions of Egyptian hieroglyphs.
The lunette on the West wall depicts Apollo surrounded by objects evoking poetry and theatre, and the winged horse Pegasus on Mount Helicon. From the god's syrinx (pan pipe) flows the water of the Hippocrene Spring, cherished by the Muses. Under the lunette, a Gonzaga's Coat of Arms, flanked by "amorini", is frescoed on the frontispiece of the door.
The seriously damaged North wall depicts two episodes of the myth of Orpheus and Eurydice. In the first Eurydice is being chased by the shepherd Aristaeus, while the latter shows Orpheus, Eurydice's groom, who is enchanting animals with his voice.
The lunette of the East wall celebrates the Latin poetry through its major personality, Virgil, born in Mantua, whose laurelled head emerges from the bowl of a water fountain. A personification of Mantua is resting on the bowl, while Apollo watches over her from the top of an effigy (inspired to the famous Apollo of the Belvedere in the Vatican Museums).
As for the opposite wall, under the lunette a Gonzaga's Coat of Arms flanked by "amorini" appears.