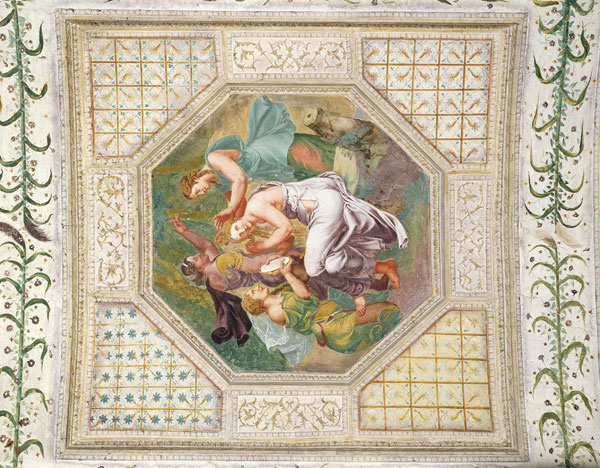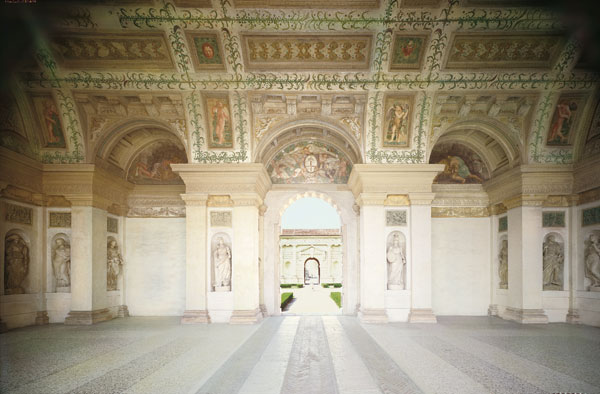 The Loggia owes its name to the decorations related to the Stories of David, frescoed in the lunettes and in the vaulted ceiling.
The large porch well sums up the life in the villa, opening onto the Courtyard of Honour with a central arch and towards the fish ponds and garden, once full of flowers and plants, with three arches supported by groups of four columns.
The frescoes and stuccoes above the door were made between 1532 and 1534 but the Loggia had probably already been set up in 1530 to receive the visit of the Emperor Charles V.
The scenes regarding David allude both to the military standards of perfection of Federico, and in events that involved the Duke's mistress, Isabella Boschetti: like David, in love with Bathsheba, had sent her husband Uriah to die, Federico acted against Isabella's husband too .
The lunettes dedicated to the biblical hero illustrate David and Goliath (North wall), David fighting against a lion (West wall, lunette on the right), David fighting a bear (lunette on the left), David plays the lyre (South wall). To the same theme also refer the fine stucco medallions around the lunettes on the short walls. The Stories of David return in the octagonal coffers of the vault : The Toilet of Bathsheba, The Bath of Bathsheba and The Drunkenness of Uriah.
The decoration is completed by Gonzaga's coat of arms, frescoed on the lunette at the center of the West wall and by the modelled stucco Victories at the sides of the arches.
The fake bronze bas-reliefs on the walls, with stories of David, date back to the early nineteenth century, while the statues of the Virtues in the niches, which were originally intended to host busts of famous warlords, are dated between the mid-seventeenth and the early the nineteenth century.